On March 28, 2005, the Census Bureau released a report that was described in Associated Press releases with a unique spin. (See Wall Street Journal, 3-28-05, p A7: "Data Show Racial Gap in Incomes of Women":
"Black and Asian women with bachelor's degrees earn slightly more than similarly educated white women . . ."
This cold, hard, and allegedly objective review of the data is intended to get white women mad at their competitor Black and Asian women who all are vying for, the anonymous writers believe, the same slice of the pie.
Well, I'm not buying it. I say to my Black Sisters and my Asian Sisters,
"You GO, Girls! Those women who struggle to earn a bachelor's degree at levels, like my white Sisters, who exceed the graduate rates of males, OUGHT to be earning as much as they possibly can in this so called Meritocracy!"
But the reality is that NO WOMEN with a bachelor's degree is doing that well. That's the message to our young, bright, but extremely naïve Younger Sisters – regardless of race, color, creed, religion OR political beliefs. To all of those young women who have been saying to themselves, "Oh, but we're making SOOOOO much progress these days! That pay differential issue is SOOOOO yesterday."
We reply, "That's what WE THOUGHT, too, back when we were your age. Back then, we didn't have the data that YOU do today." And here it is:
In the year 2003, "… white men with four year degrees make more than anyone else."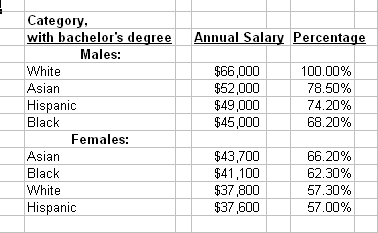 Given that white females earn only 57.3% of what white males earn, does it really matter that black females earn a whopping 5% more or that Asian females earn 9% more than white females?

Isn't the issue that men earn much more than their presence in college degree programs would warrant? And that men earn much more than their graduation rates from college would warrant? Isn't the issue NOT that women might need to hold down two or more jobs to earn a measly 62.3% of what their while male counterparts earn in one job?

Isn't the issue equity? Fairness? That good ol' American "level playing field"? That "meritocracy" that we're always hearing about?

The intense efforts to "explain" these tiny differences among black, Asian, and white women college graduate salaries is akin to the shuffling of the chairs on the deck of the Titanic. Why try to "explain" a 6% variation in incomes among women, while we totally ignore the huge and persistent 40% variation in incomes between women and men?

Reporters and journalists at the Associated Press get to hide behind their anonymity in order to give us their special spin on the Census Bureau data. It's probably because they're all a bunch of white male college graduates, anyway, cackling to themselves as they write their copy, trying to pit one woman wage earner against another –- and laughing all the way to the bank.